RocknRoller's 5th Birthday 80's Fancy Dress Weekend!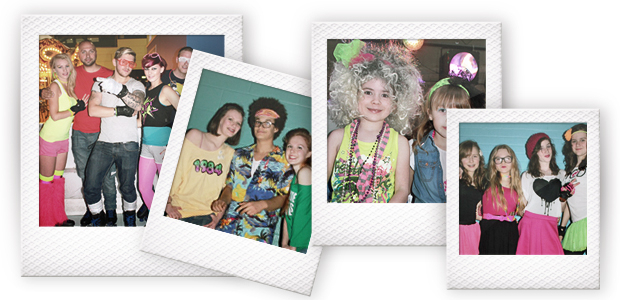 Friday 18th July @ The Walnuts, Orpington
Sat 19th July @ Leatherhead Leisure Centre
Limited tickets still available at the Door. Please arrive 30 minutes earlier than stated session.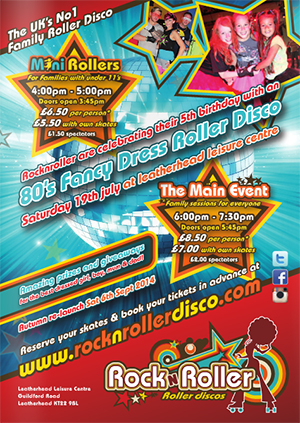 Rocknroller are bringing the Roller Discos outdoors this August!
Dig out your sun cream, Hawaiian shirts & Hula skirts and join us on the tennis courts at Leatherhead Leisure Centre for family fun, dance routines and lots of silly games on 8 wheels!!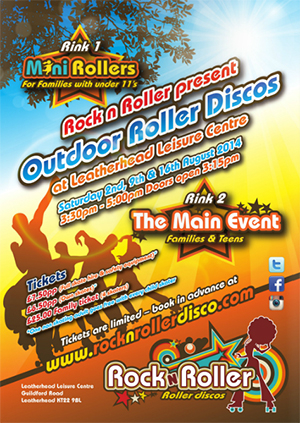 | Saturday 2nd August | Saturday 9th August | Saturday 16th August |
| --- | --- | --- |
| 3.30pm – 5.00pm (gates open 3.15pm) | 3.30pm – 5.00pm (gates open 3.15pm) | 3.30pm – 5.00pm (gates open 3.15pm) |
Rink 1 – Mini Rollers (Families & Under 11's)
Rink 2 – Main Event (Families with Over 11's & Teens)
Tickets
Full Hire & Safety Gear
Own Skates & Safety Gear
Family Ticket (x 4 skaters)
£7.50 pp*
£6.50 pp*
£25.00
*One non skating adult goes free with every child skater.
VIP Birthday Party Packages
Party slots available at £11.50 per person (Min 15 guests) – Call RnR HQ on 020 8656 0513 to book.
PLEASE ENSURE YOU BOOK YOUR TICKETS UP TO 48 HOURS IN ADVANCE OF THE EVENTS. IF YOU MISS THE DEADLINE THERE'S A LIMITED NUMBER OF TICKETS ON THE DAY. ARRIVE 30 MINS EARLY!
Latest News
Children's VIP Party Packages Available.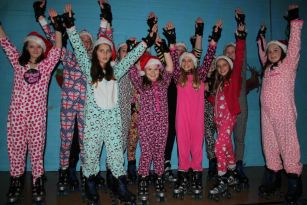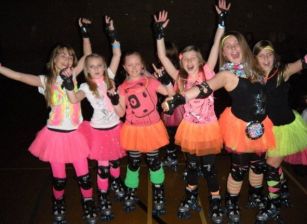 Why not hold your next Birthday Party at one of our Public Events? We take care of everything from Invitations to Party Bags, Party Hosts, Unlimited Drinks, VIP Seating, even "DJ Shout-outs" but dont take our word for it:
"I just wanted to email to say thank you for the wonderful time Isabella and her guests had on Friday. It was the least stressful party I have ever put together!
The girls and boys patrolling the rink were brilliant, helping the more nervous of our party get the hang of the skating and more importantly getting them back on their feet! Isabella had a fantastic time and I've had nothing but great feedback from parents and kids alike.So thank you again, I have a feeling we'll be back!" ~ Kate.
Bring RocknRoller To Your School, College or University
Turn your next event into a fantastic ROCKNROLLER ROLLER DISCO! RocknRoller will bring everything to your venue to create a fun, safe, spectacular event that students will be talking bout for terms to come. Its not too late to book for this Summer. View our PDF BROCHURE HERE or call the office on 0208 656 0513 for further details.
The Ultimate 70s Roller Disco @ Claridge's Hotel, London
On October 30th, Claridge's Hotel Ballroom was transformed into a funky 70s Roller Disco for 250 VIP Guests from the Entertainment Industry. LED Dance-floor, American Burger Bar, Psychedelic Lighting, Fantastic Costumes and amazing set production transformed one of London's most prestigious venues right back to the 70s! The RocknRoller Team did what they do best and an amazing night of Roller Disco, fun and games ensued finished with a fantastic 70s disco. RocknRollers' amazing skaters showed the crowds how it really should be done and then tried to pass on the skills......with varying levels of success! A wonderful night! For details of RocknRoller's Private and Corporate Events Package call the team on 0208 656 0513 or contact Paul at paul@rocknrollerevents.com
New PRIVATE and CORPORATE Website!!!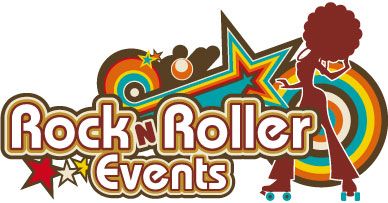 Our new Private and Corporate Events website is now up and almost running. This is for Event Companies, Schools, Universities, Charities and individuals looking to stage an exceptional RocknRoller Event! Visit www.rocknrollerevents.com now!
RocknRoller Bring Roller Disco Back To Thorpe Park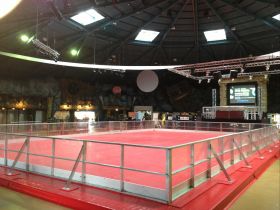 What a fantastic event! RocknRoller rolled back the years by turning Thorpe Park's DOME into a glitzy Roller Disco!
Check out what they had to say!
"Paul and the RockNRoller team delivered an amazing event for us here at THORPE PARK. A great mix of music, dancing and games gave our guests a fantastic experience. The team are fun and attentive and the equipment of great quality. Thanks guys, we'll see you again!"
See you soon guys and Thank You!


You have no items in your basket
Use the search form above or check for upcoming events below.