RocknRoller have delivered exceptional School, College and University Events throughout the UK for nearly six years and have an envious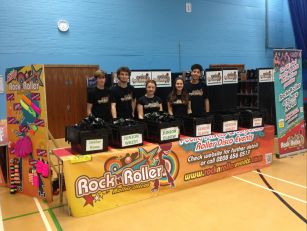 portfolio of satisfied customers in the Private and Public education sectors. Many of our Clients have used us on a regular basis, with RocknRoller events becoming a "right-of-passage" for school-leavers, boarders or quite simply end-of-term event for pupils to look forward to.
From the meticulous planning through to the quality of equipment and experience of staff, our RocknRoller Events deliver a unique Roller Disco experience for all ages and abilities. We hold full PLI Insurances, manage the whole Health and Safety process and all staff hold enhanced CRBs. References and testimonials available upon request.
Please email RocknRoller HQ at natasha@rocknrollerdisco.com
for further details or to check availability.
"RocknRoller Disco swept into Pennthorpe and provided the most memorable Christmas party our senior children (Years 6-8) have ever had. The staff were all excellent and the afternoon flew past in a whirl of whole group participation games, high energy music and neon glow sticks. There really was something for everyone and while our experienced skaters were quickly able to express themselves, our beginners soon found their feet and picked up the pace.
Some of our braver staff too took to the circuit, but even those who didn't marveled at how well organised everything was and just how disciplined the whole experience was (I think we'd expected some kind of scrum!). RocknRoller really did think of everything, from their meticulous pre-visit risk assessment and planning to the brilliant prizes and merchandise on offer on the day.
They even retrieved all the safety equipment the children had worn and managed the impossible task of matching a multitude of different sized shoes to their proper owners before the end. They were in and out in an afternoon leaving nothing but fantastic memories of an experience our children will not forget in a hurry. I would have no hesitation in recommending RockNRoller Disco to any similar school or venue."
Mr. Matthew King

RocknRoller returned to Pennthorpe School in December 2019 for the 10th year in succession. Thank you!