Here's a little snippet of what a RocknRoller - Roller Disco is all about......
*** CORONAVIRUS UPDATE ***
ALL EVENTS CANCELLED UNTIL FURTHER NOTICE
Dear RocknRoller - Roller Disco customers
Please be advised that RocknRoller - Roller Discos have had to cancel/postpone all future roller disco events until further notice, due to the Coronavirus pandemic.
As soon as the lockdown restrictions have been lifted by the Government, we will be in touch with our regular venues at Leatherhead & Westcroft Leisure Centres to confirm future booking dates and will amend the online booking system accordingly, with revised event dates.
For customers who have already made an online booking for a cancelled or forthcoming event, or had a VIP party booking confirmed, we are more than happy to transfer these to an alternative date, once things have settled back down and life returns to normal.
Should you wish to discuss anything in more detail, please send an email to natasha@rocknrollerdisco.com with your name, contact number and a brief description of your enquiry and I will get back to you.
Please accept our sincere apologies for any inconvenience caused and we sincerely hope that you, your families and friends, stay safe (and free) from this horrible virus.
RocknRoller - Roller Discos Ltd
Latest News
Children's VIP Party Packages Available.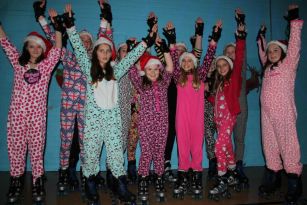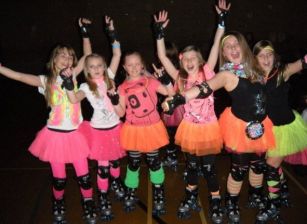 Why not hold your next Birthday Party at one of our Public Events? We take care of everything from Invitations to Party Bags, Party Hosts, Unlimited Drinks, VIP Seating, even "DJ Shout-outs" but dont take our word for it:
"I just wanted to email to say thank you for the wonderful time Isabella and her guests had on Friday. It was the least stressful party I have ever put together!
The girls and boys patrolling the rink were brilliant, helping the more nervous of our party get the hang of the skating and more importantly getting them back on their feet! Isabella had a fantastic time and I've had nothing but great feedback from parents and kids alike.

So thank you again, I have a feeling we'll be back!" Kate.
Click Here for full details of our Party Packages
The Ultimate 70's Roller Disco @ Claridge's Hotel, London
On October 30th, Claridge's Hotel Ballroom was transformed into a funky 70s Roller Disco for 250 VIP Guests from the Entertainment Industry. LED Dance-floor, American Burger Bar, Psychedelic Lighting, Fantastic Costumes and amazing set production transformed one of London's most prestigious venues right back to the 70s! The RocknRoller Team did what they do best and an amazing night of Roller Disco, fun and games ensued finished with a fantastic 70s disco. RocknRollers' amazing skaters showed the crowds how it really should be done and then tried to pass on the skills......with varying levels of success! A wonderful night! For details of RocknRoller's Private and Corporate Events Package call the team on 0208 656 0513 or contact Natasha Wood at natasha@rocknrollerdisco.com
RocknRoller have been hosting 50's inspired Roller Discos for Butlins at Goodwood Revival since 2014!!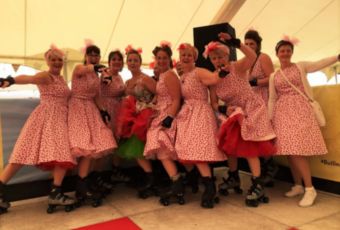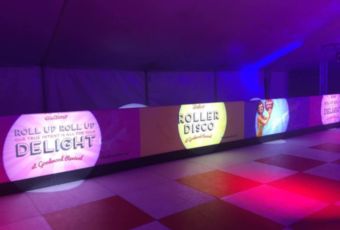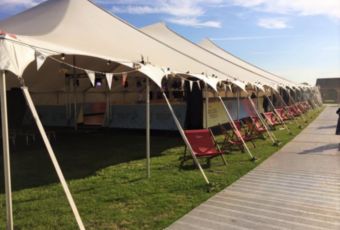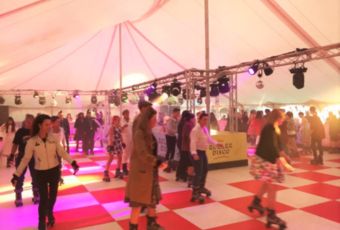 RocknRoller deliver year on year a 50's inspired Roller Disco for Butlins (Resorts) at Goodwood Revival. The sun shines on us every year and participants of all ages, dressed in vintage attire, don pairs of skates and whizz around the rink to the sounds of Elvis Presley and the like!
The RocknRoller team join in the fun and games and even the Redcoats get their skates on, showing us their skills, it's fantastic fun year on year and just keeps getting better. Plus the biggest bonus is......it's provided absolutley free of charge, courtesy of Butlins.
To discuss options or a quote for a similar event, please contact Natasha Wood on 07970 266790 or email natasha@rocknrollerdisco.com