Here's a little snippet of what a RocknRoller - Roller Disco is all about......
Please note:
We are on summer shutdown until September 21st so our administrative hours are heavily reduced. We will still be responding to emails during this time, but please expect a delay.
**For VIP Party Bookings please call 0208 656 0513 or email info@rocknrollerdisco.com**
*Please note our telephones are currently experiencing some technical difficulties so your best option is to email us*
Latest News
Children's VIP Party Packages Available.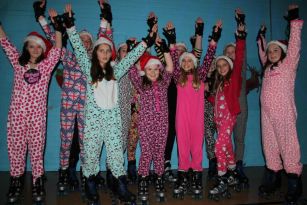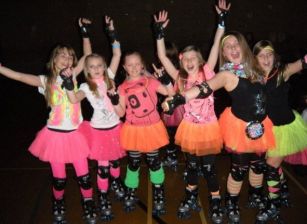 Why not hold your next Birthday Party at one of our Public Events? We take care of everything from Invitations to Party Bags, Party Hosts, Unlimited Drinks, VIP Seating, even "DJ Shout-outs" but dont take our word for it:
"I just wanted to email to say thank you for the wonderful time Isabella and her guests had on Friday. It was the least stressful party I have ever put together!
The girls and boys patrolling the rink were brilliant, helping the more nervous of our party get the hang of the skating and more importantly getting them back on their feet! Isabella had a fantastic time and I've had nothing but great feedback from parents and kids alike.

So thank you again, I have a feeling we'll be back!" Kate.
Click Here for full details of our Party Packages
The Ultimate 70's Roller Disco @ Claridge's Hotel, London
On October 30th, Claridge's Hotel Ballroom was transformed into a funky 70s Roller Disco for 250 VIP Guests from the Entertainment Industry. LED Dance-floor, American Burger Bar, Psychedelic Lighting, Fantastic Costumes and amazing set production transformed one of London's most prestigious venues right back to the 70s! The RocknRoller Team did what they do best and an amazing night of Roller Disco, fun and games ensued finished with a fantastic 70s disco. RocknRollers' amazing skaters showed the crowds how it really should be done and then tried to pass on the skills......with varying levels of success! A wonderful night! For details of RocknRoller's Private and Corporate Events Package call the team on 0208 656 0513 or contact Natasha Wood at natasha@rocknrollerdisco.com
RocknRoller delivered a 50's inspired Roller Disco for Butlins at Goodwood Revival in 2014, 2015 and 2016!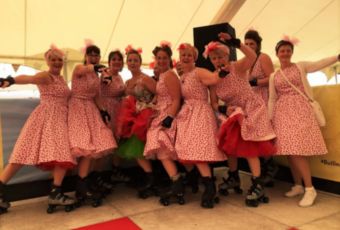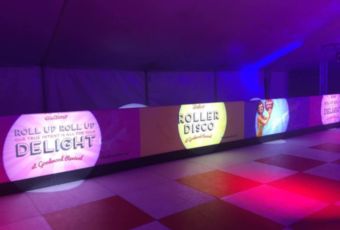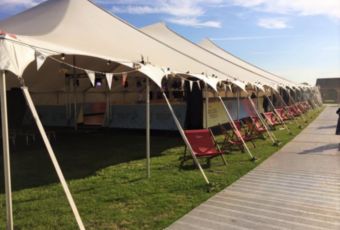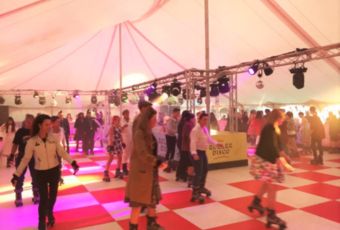 RocknRoller delivered a 50's inspired Roller Disco for Butlins (Resorts) at Goodwood Revival. The sun was shining on us all weekend and participants of all ages, dressed in vintage attire, donned a pair of skates and whizzed around the rink to the sounds of Elvis Presley and the like!
The RocknRoller team joined in the fun and games and even got the Redcoats on wheels, showing us their skills, it was great fun and even better, it was free to everyone who took part.
To discuss options or a quote for a similar event, please contact Natasha Wood on 0208 656 0513 or email natasha@rocknrollerdisco.com